INEOS Grenadier 4X4 launches with a simple model line-up and is available to order in Oman now
Grenadier launches with a five-seat Station Wagon in Oman
The Grenadier is a highly capable workhorse with permanent four-wheel drive, two speed transfer case and centre locking differential included as standard
Standard Grenadier is a stripped back, no nonsense workhorse ready to be configured to owners' exact needs
Belstaff-inspired Grenadier Trialmaster and Grenadier Fieldmaster trim specifications configured with specific purposes in mind
A wide range of options and accessories allow for all versions to be customised
Order books and online configurator are live now
Orders can be finalised directly with MHD ACERE in Oman: dedicated Grenadier Whatsapp number (+968 7111 1504) and e mail: enquiry@mhd.co.o
Comprehensive aftersales package will provide customers with total peace-of-mind
Designed, engineered and built to world-class standards, the Grenadier is a built-on-purpose 4X4 with serious off-road capability that prioritises function over form. It features award-winning engines, a ladder-frame chassis, permanent four-wheel-drive, up to three locking differentials and solid beam axles.
Learning from the best off-roaders of the past and partnering with world-leading suppliers, INEOS Automotive has designed a true utilitarian workhorse that's comfortable, practical, durable and reliable, meeting the expectations of the 21st century 4X4 driver. A simple model line-up provides the basis for buyers to easily select and configure their perfect Grenadier with a wide range of options and accessories.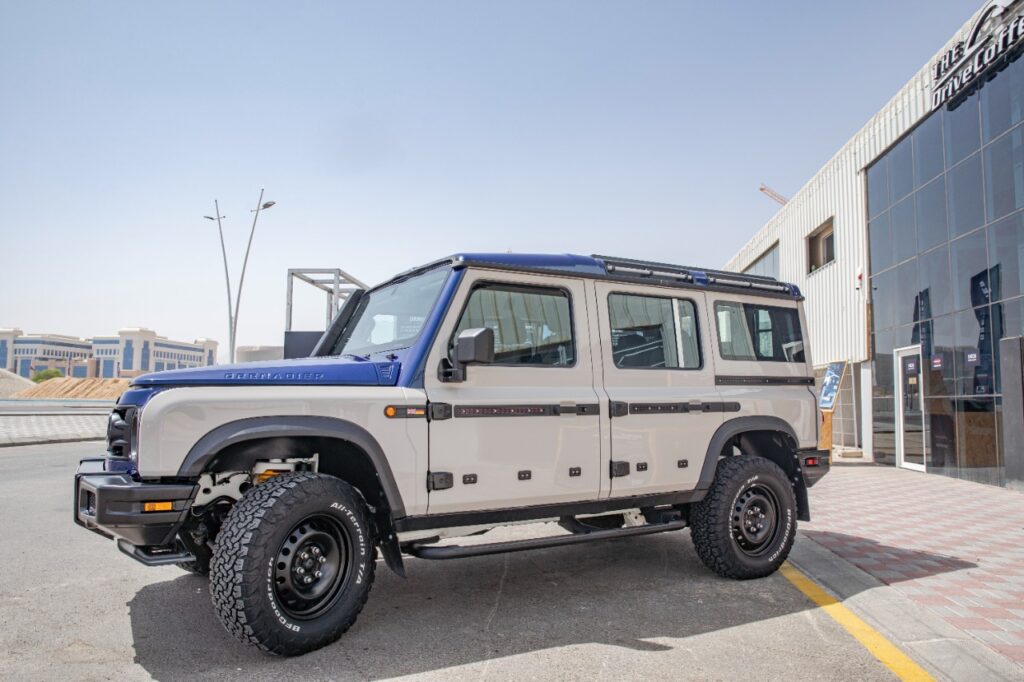 A Workhorse Vehicle with Comfort and Refinement as Standard
The Grenadier Station Wagon has five seats and is configured to offer the optimum balance between payload and passenger carrying capability. The standard specification Grenadier is a blank canvas ready to be configured for the exact needs of customers. It is built for those needing a stripped back, no nonsense workhorse, but still with the comfort, refinement and standard features that today's drivers expect. 
High-spec Belstaff editions for every adventure
In addition to the standard specification Grenadier, INEOS Automotive also offers two pre-configured vehicle editions that reflect Belstaff's and INEOS Automotive's shared philosophy for producing authentic, uncompromising products that are engineered to last. Creating premium outerwear since 1924, Belstaff is known for its iconic waxed cotton jackets and its pioneering and progressive spirit.
The Grenadier Trialmaster and Fieldmaster Editions have both been curated with specific purposes in mind and are built to take on the outdoors.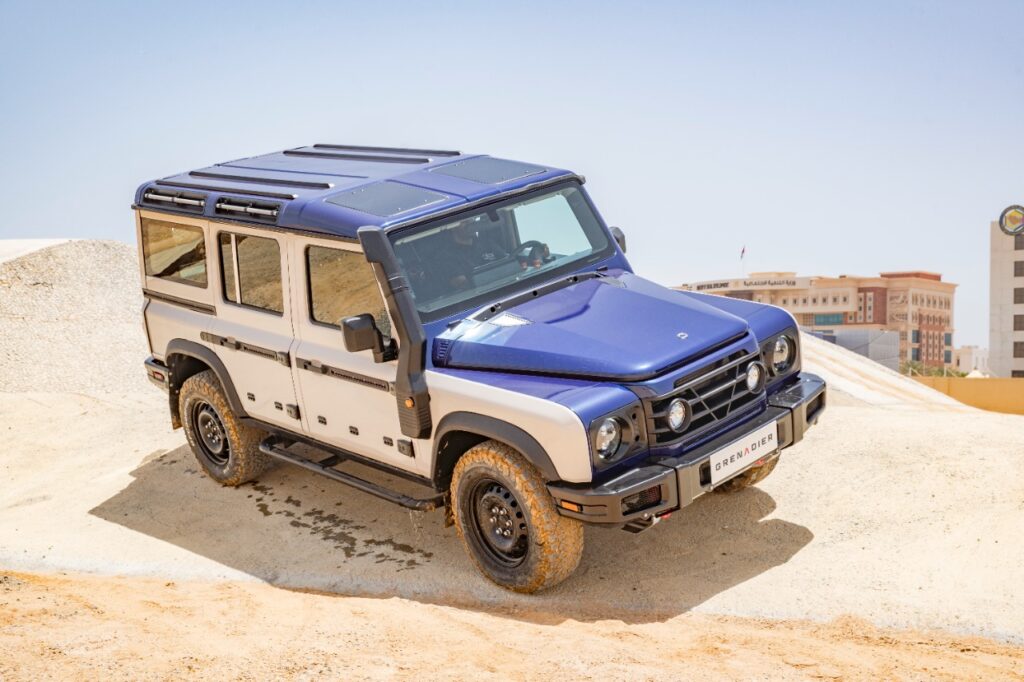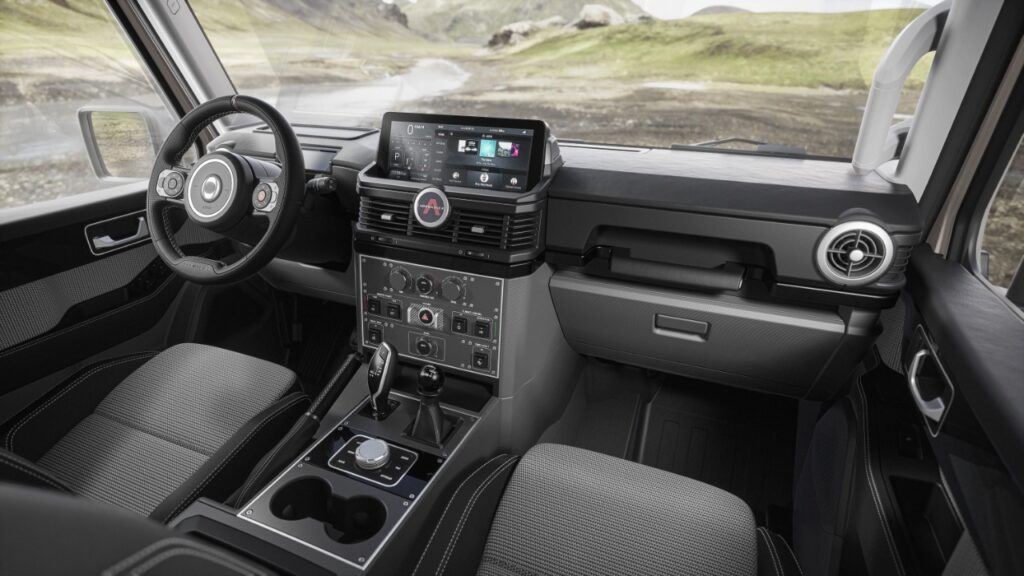 Simplified Ordering Process
Order books and an enhanced online configurator are live now. While thousands of reservists around the world have priority to secure their build slot, anyone in Oman can configure and order their Grenadier.
The online configurator at ineosgrenadier.com takes customers through the build of their perfect Grenadier, step-by-step. Once they've settled on their configuration, a deposit payment of US$ 2,500 – refundable until the vehicle contract is signed – secures a build slot.
Customers can also contact MHD ACERE via a dedicated Grenadier Whatsapp number (+968 7111 1504) and e mail: enquiry@mhd.co.om
Award-winning BMW Power
The Grenadier has been developed to be refined on the road and extraordinarily capable off-road. Reliable and durable engines and a proven transmission have been tuned and calibrated specifically for the Grenadier. Whatever its intended use, Grenadier owners need unquestionable reliability from the powertrain. So, INEOS Automotive hand-picked the best suppliers from the automotive industry and took their quality components through an arduous testing regime of 1.8 million kilometres, in all climates, in all conditions, across all terrains.
The Grenadier is powered by a choice of two straight-six, 3.0-litre BMW engines. The B58 petrol (standard) and B57 diesel (available on special order) powertrains have a proven track record, regularly appearing in top ten world's best engine lists since 2016. They have been used in everything from sports cars to SUVs.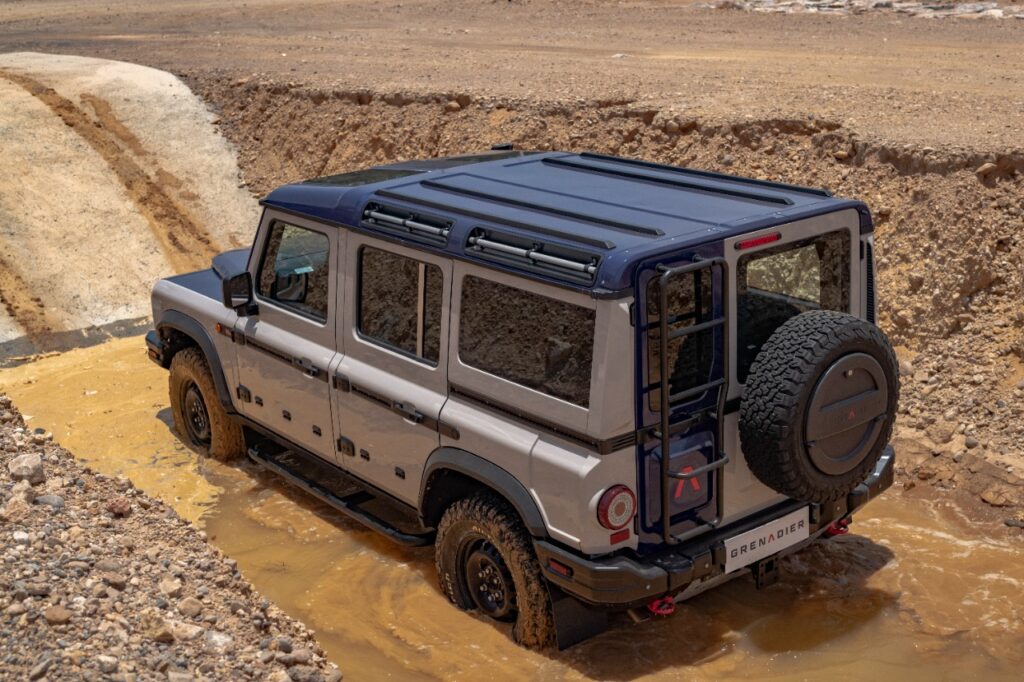 The two power units bring BMW's sophistication and refinement to the Grenadier, but they have been enhanced by INEOS Automotive's engineering team. As well as providing powerful acceleration on tarmac, they also deliver peak torque at low revs – sustaining it through the rev range – for optimal off-road performance.
The carefully calibrated characteristics help the driver to confidently manage the vehicle's momentum and grip without stressing the engine, ensuring full control when tackling tricky terrain. The refined turbo petrol engine produces 286PS (210kW) and 450Nm (332 lb-ft) of torque, while the twin-turbo diesel generates 249PS (183kW) and 550Nm (406 lb-ft), for even greater pulling power. Start/stop is built-in, increasing range and preserving air quality when the vehicle is stationary.
The Grenadier's engine is paired with an eight-speed automatic gearbox from industry leaders, ZF. With an impressive track record since hitting the market in 2008, and with generational updates to improve performance, ZF8HP transmissions enjoy wide use in the automotive industry.
Comprehensive After Sales Support
After 1.8 million kilometres of testing and development, INEOS is confident in the Grenadier's durability and reliability. So, it provides the peace-of-mind of a comprehensive warranty. Complete vehicle warranty provision in the MENA region is for five years with unlimited mileage. Globally, the Grenadier will come with a three-year paint warranty, a three-year warranty for accessories, and the ladder-frame chassis and body components will have a 12-year anti-perforation warranty.
World-class Build Quality
INEOS Automotive's Hambach plant is a state-of-the-art 210,000m² facility. It employs a highly experienced direct workforce of 1,000 and has an excellent track record for the quality of its output. Its location within the German automotive cluster gives it excellent access to supply chains, automotive talent and sales markets. Since acquiring Hambach from Mercedes-Benz in January 2021, INEOS has invested over €50m in addition to the €470m invested in 2019. The Grenadier line includes a new semi-automated paintshop, a new fully automated bodyshop, and a new quality centre.
Hundreds of Grenadier production prototypes are now being built at Hambach. These are being used for final test rounds including crash testing for certification and to validate the assembly process and build quality. The Hambach workforce is going through 20,000 hours of training as it prepares for the start of production.
Hambach is on-track to begin launch series production in July 2022.