GRENADIER QUARTERMAS
The double cab pick-up becomes the second model from INEOS Automotive, combining the qualities of the Grenadier Station Wagon with greater load-lugging versatility.
The Grenadier Quartermaster offers world-class off-road ability, with 264mm of ground clearance, an 800mm wading depth and approach, breakover and departure angles unrivalled by any other series production pick-up.
Its longer wheelbase gives it a load bay that easily carries a standard Euro pallet.
Powered by a BMW 3.0-litre turbocharged inline six-cylinder petrol engine and eight-speed ZF automatic transmission.
Lynn Calder, CEO of INEOS Automotive, said: "I think it is a great looking car, it is truly rugged and unbeatable off-road."
The Grenadier Quartermaster will be available for order in the MENA region from August 1, 2023.
The all-new INEOS Grenadier Quartermaster made its global debut at this year's Goodwood Festival of Speed.
Developed and built alongside the Grenadier Station Wagon, the all-new double cab pick-up delivers the same uncompromising off-road capability and dependability as its stablemate.
Lynn Calder, CEO of INEOS Automotive, said, "I think it is a great-looking vehicle, it is truly rugged and unbeatable off-road."

While the Grenadier Quartermaster shares most of its architecture and components with the Station Wagon, its strong and rigid box-section ladder frame chassis is 305mm longer. This results in a large and versatile load bay, 1,564mm long and 1,619mm wide, that is large enough to carry a standard 1,200mm x 800mm Euro pallet with ease.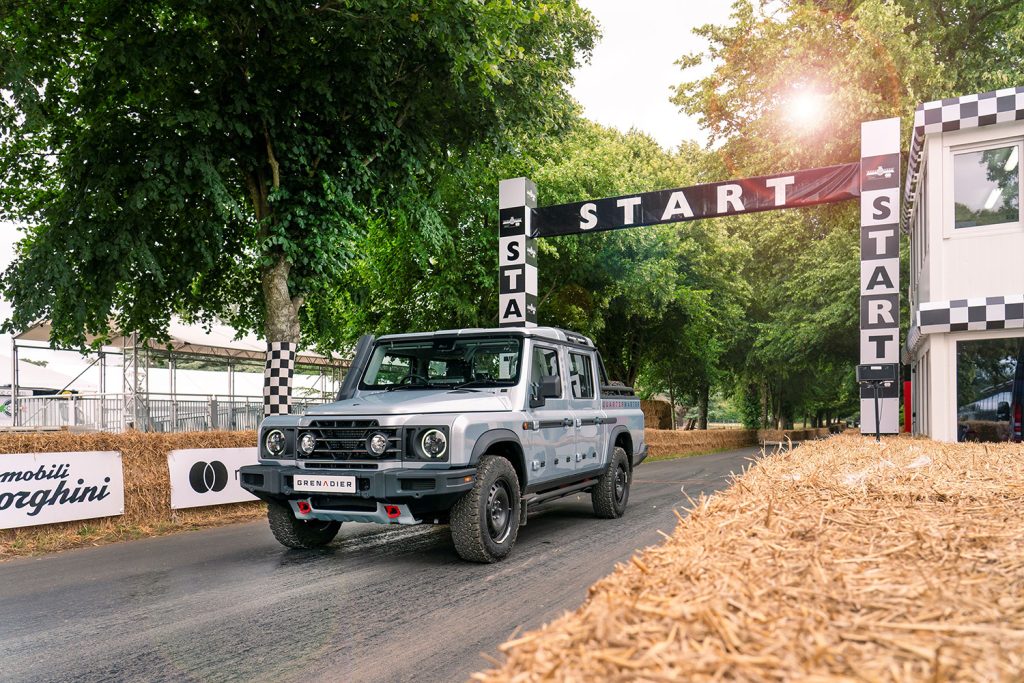 With a payload of 760kg, the same 3,500kg towing capacity as the Grenadier Station Wagon, and a wide range of accessories available, the Grenadier Quartermaster is capable of carrying five people and their bulkiest of loads. Its everyday cargo-lugging versatility is assured by four tie-down rings in the load space (Utility Rails optional), a 400W power take-off, an integrated mounting bar, and a wide 1,280mm tailgate that can support up to 225kg when open.
Like the Station Wagon, the pick-up is powered by a BMW 3.0-litre turbocharged inline six-cylinder petrol engine and eight-speed ZF automatic transmission. A centre differential lock and two-speed transfer case are fitted as standard (front and rear diff locks are optional). The Grenadier Quartermaster also rides on the same heavy-duty five-link front and rear suspension and is fitted with Carraro-supplied solid beam axles complemented by powerful Brembo brakes and a recirculating ball steering system.
The Grenadier Quartermaster boasts class-leading off-road ability, with 264mm of ground clearance, an 800mm wading depth and approach, breakover and departure angles unrivalled by any other series production pick-up.
The model line-up will mirror that of the Station Wagon and is available in standard, Trialmaster and Fieldmaster trims.
Quartermaster will be available with a wide range of tailored accessories for drivers looking to customise it to their specific needs. Its cargo bay can be fitted with a robust frame and waterproof canvas canopy or a lockable roller tonneau cover, while a roof rack further increases carrying capacity and can host a wide range of mounts to carry expedition essentials such as jerry cans, sand ladders and shovels.
Pricing and vehicle specifications will be confirmed when the MENA region order books open on August 1st, 2023.
To find out more about Grenadier, visit www.ineosgrenadier.com
About INEOS Grenadier
In 2017, INEOS Chairman Jim Ratcliffe, a car enthusiast and experienced adventurer, identified a gap in the market for a stripped back, utilitarian, hard-working 4×4 engineered for modern day compliance and reliability. INEOS Automotive Limited was formed and a senior team of automotive professionals assembled to bring the vision to reality with a fresh perspective of 4×4 development and manufacturing.
Combining rugged British spirit and design with German engineering rigour, the Grenadier will be a truly uncompromising 4×4 built from the ground up. Engineered to overcome all conditions, it will provide best-in-class off-road capability, durability, and reliability to those who depend on a vehicle as a working tool, wherever they are in the world.
INEOS Automotive is a subsidiary of INEOS (www.ineos.com), a leading manufacturer of petrochemicals, speciality chemicals and oil products. It employs 25,000 people across 39 businesses, with a production network spanning 183 sites in 29 countries. From paints to plastics, textiles to technology, medicines to mobile phones, materials manufactured by INEOS enhance almost every aspect of modern life. In 2021, INEOS had sales of $65bn.
About MHD Automobiles LLC
MHD Automobiles LLC is one of the main operating divisions under MHD ACERE and represents premium automotive brands. MHD ACERE is a key contributor to the economy of Oman committed to the progress of the country in accordance with the government's vision for capacity building, human capital creation and efforts towards Omanisation. With the strength of rich history and a firm belief for the future with able leaders at the helm MHD ACERE is looking to power the future of Oman.
To know more, visit https://mhdacere.com/
Social Media:
Instagram: @ineosgrenadieroman
Facebook: INEOS Grenadier Oman
TER